Still Life (Documentary)
About the Director
Serena Dykman is a New York-based French-Belgian filmmaker, graduate of NYU Tisch School of the Arts, and granddaughter of three Holocaust survivors.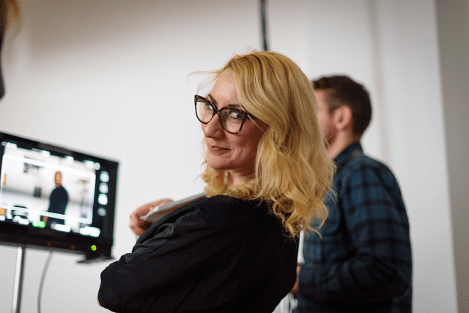 Her passion for travel and cross-cultural issues has informed much of her work. Her movies have amassed over 40 awards including a Webby, and have been featured in countless film festivals including Oscar-qualifying ones.
Serena's first feature, NANA, which she made when she was 23, is an intergenerational documentary about her grandmother, Maryla Michalowski-Dyamant, Auschwitz survivor and activist for tolerance. Serena toured the world with NANA, presenting it in festivals, world-renowned museums and educational institutions. The 16-time award-winning film was chosen by the European Commission and European Jewish Congress to be presented on Holocaust Memorial Day 2018, where Serena participated in a discussion on the future of Holocaust education with the First Vice-President of the European Commission Frans Timmermans and historian and author Sir Simon Schama. NANA was picked up for distribution and released theatrically in 2018.
Serena won the Women eNews "21 leaders in the 21st century" alongside Abigail Disney, Amy Ferris, and other recipients, and is currently developing several scripted and unscripted projects for film and television.
Synopsis
Starting with a simple set of silverware, the documentary will follow the physical objects left behind to trace the life of a pioneering artist during the darkest time in history.
Through the eyes of his surviving descendants, as well as design and art historians, this personal film will bring an extraordinary life back into the light, and illuminate the struggles and tremendous courage of those who sought to create even as they faced death.
Director's Statement
What if there was a story behind objects you've used your entire life?
The spoon you eat your yogurt with in the morning?
The silverware in your kitchen drawer?
The candle holders you use for Shabbat?
The Vandermeulen family discovered a story; the one of artist, designer and sculptor-extraordinaire Friedrich Adler, their relative.
With Still/Life, I want to revive and breathe new life into Adler's significant legacy in both the art and design world. I also want to ensure that people know how and why he died. This film will amplify Adler's influence and impact, which were cut short by history.
Being a filmmaker and third-generation Holocaust survivor, I have made it my mission to make sure that the memory and teachings of the Shoah wouldn't die with survivors.
For this documentary short, I have already secured interviews with some of Adler's relatives, including his 99-year-old cousin, who is the last living relative who remembers him. I've approached museum curators, authors and art collectors specialized in Adler, as well as secured the rights to a book written about his work.
I feel invested in the mission of documenting Adler's descendants' quest for answers and their desire to bring Adler's masterwork back in the spotlight.