Inked: The Controversy of Commemorative Tattoos (Documentary)
About the Director
Dara Bratt is a passionate storyteller dedicated to unveiling cinematic beauty in all her work. With a talent for revealing the essence of her subjects, she excels in capturing authentic and engaging interviews, whether for feature films or 30-second commercials.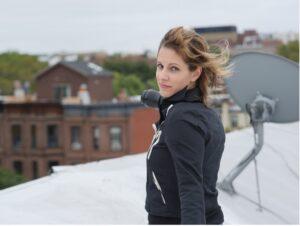 Collectively, her films have screened all over the world, including Tribeca, SXSW, Cannes, Abu Dhabi International Film Festival, and more. Dara's clients range from AUC University to City Harvest, and Maybelline NY.
She is the recipient of the Alfred P. Sloan Production grant, the FAP grant from the National Film Board of Canada, the Tribeca Film Institute Sloan Award, the documentary grant from the Academy of Motion Pictures, Arts, and Sciences, and the production grant from First Look Films for Topic.
Dara holds her MFA in film from Tisch School of the Arts, NYU. Born and raised in Montreal, she now calls Brooklyn, NY home.
Synopsis
"Inked" is an exploration into a captivating yet complex, new phenomenon—where second, third, and fourth generation descendants of Holocaust survivors choose to remember their ancestors through commemorative Holocaust tattoos. These range from Auschwitz numbers, for example, to the Jewish star.
Through interviews with Holocaust survivors and their descendants, combined with cinematic visuals and archival footage, this short documentary explores the decision to etch history onto the body—an act that invites us to confront essential questions about memory, Jewish identity, and self-expression.
Director's Statement
In our family, the act of honoring the memory of our ancestors has always been deeply ingrained. My middle name was chosen to serve as a tribute to my great-grandmother, ensuring that her legacy lives on through my own identity. Continuing this tradition, when my daughter was born, we carefully selected her first name as a heartfelt remembrance of my grandmother. For generations, Yad Vashem has been the traditional avenue through which we honor our ancestors, by preserving their memory and passing down their names.
In 2023, as the number of Holocaust survivors alive are dwindling, the next generations are faced with the challenge of preserving their memories in a way that pushes the boundaries of tradition, entering into a new and controversial territory. Literally their skin.
As a filmmaker, I'm always drawn to subjects or stories that are unique and complex, and aim to shine a light on something out of the ordinary, and let it resonate with audiences to let them decide if it's extraordinary.
I was drawn to this topic because it explores the complexities of memory, and the enduring need to grapple with the legacy of the Holocaust.
In the broader scope, we see that with women, reshaping their narratives post-breast cancer surgery, designing their scars with tattoos that redefine femininity. LGBTQ+ individuals tattoo pink triangles—a symbol of persecution—embracing it as an emblem of strength. Today, there's empowerment in being a survivor, not a victim— there's a power in surviving.
And so it makes sense, that in the wake of a surge of anti-semitism, younger generations are embracing our Jewish identity with renewed vigor.
Judaism has always embraced storytelling, whether it's oral, written or visual. These tattoos tell stories of empowerment and resilience. The film asks, how do we transform personal narratives into everlasting art, and what are the implications of doing so?