Kitty, Anne Frank's imaginary friend to whom the famous diary was dedicated, comes to life in the modern day in the Amsterdam house and embarks on a journey to find Anne, who she believes is still alive.
---
Background
From June 1942 to August 1944, Anne Frank and her family lived hiding in Amsterdam in the Annex that has now become a famous museum. This is where Anne Frank wrote her diary addressed to her imaginary friend, Kitty.

75 years later, a miracle occurs in the Anne Frank House: the glass case that protects the famous diary shatters on a stormy night, and as a drop of ink runs down the precious pages, a pretty 14-year-old redhead comes to life. It's Kitty.

Dressed in the style of the 1940's, Kitty is alone in the untouched Annex. She calls Anne but no one answers.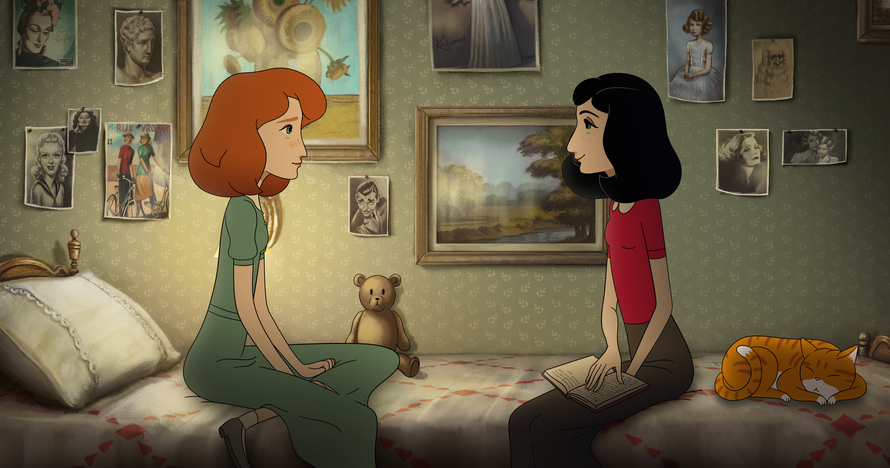 Morning comes. Visitors come and go but no one notices Kitty – she is invisible to them.
She is invisible since she is Anne Frank's imaginary friend and therefore only Anne can see her. Kitty is upset by all the commotion at the house/museum, and does not understand where her friend has gone… She needs to find her quickly! At night time, when the museum is closed, Kitty is diving with nostalgia back into the diary, where we're exposed to Kitty and Anne's fantastic friendship during the two years of hiding: She sees Anne celebrate her 13th birthday, listens to her tell about her loves, her worries, and her daily life in the Annex with her parents, her sister and the other four people hiding with them. She reveals to Kitty her total fear of the « East » and the trains that head there and never come back. Anne shares with Kitty her incredible imagination, the beauty of its strength and power in the face of the threat that is moving closer every day.
Kitty realizes she's unable to find any answers in the diary, answers that may reveal where Anne is today. She then decides to set out with the diary in her backpack to find Anne in the large city.
Outside, the walls no longer protect Kitty: She's not invisible any more, people see her – except when she moves away from Anne's diary that has brought her to life. The diary is her heart, and without it she can't exist, or in so many words, she'll die!

Kitty makes her way to a police station – after all, her friend has disappeared! People gently make fun of her but a young policewoman kindly explains to Kitty that Anne disappeared a long time ago and yet in Amsterdam, Anne Frank is still alive, everywhere. Unwilling to believe that her friend is dead, Kitty carries on with her quest: she visits the « Anne Frank » bridge, the « Anne Frank » school, the « Anne Frank » theatre, in vain. The more she seeks the less she finds – not to mention that she is now sought for by the police who want to get a hold of the diary that she is still carrying. On the run she meets Peter, a wild teenager she recognizes from the Anne Frank house, he is the guy that arrives at the museum every day to pick pocket Japanese tourists. He's a pro. But Kitty discovers that Peter is a thief for "a good cause": He runs a shelter for Middle Eastern refugees in an old mosque, a shelter for all of those who are considered "illegal passengers" during the current refugee hysteria that is now taking over Europe. Peter and Kitty fall in love.
He will follow her now wherever she goes, although he knows very well the truth about Anne's death back in 1945.
With the help of Peter, Kitty finds Jacque, Anne's best friend (who has grown very old!). Jacque encourages Kitty to follow Anne's trace in order to discover the truth: Kitty and Peter head « East » following Anne's footsteps. At Bergen Belsen, Kitty finally understands the horror that Anne went through.
It is now time for Kitty to head back to Amsterdam: she wants to bear witness to the message of hope and generosity that Anne has left behind and share it with future generations. Amsterdam is not only under the hunt for the missing famous diary, the city is also in a hunt after illegal refugees. Peter's hidden refugee shelter is on the spot. When Kitty and Peter arrive at the shelter, coming back from the east, they find the place flooded with police and armed forces. The shelter has been exposed, the 300 refugees are about to be deported. This is Kitty's biggest moment: she offers to trade the stolen diary, for the lives of all the refugees in Peter's shelter. Doing so, Kitty takes the risk that she will cease to exist without the diary.
It takes the entire night for the authorities to decide, but at dawn the unbelievable happens: 300 refugees are welcome to establish their home in Amsterdam. The diary travels back to the Anne Frank House. Kitty and Peter vanish.
Now there is only one question left: will kitty ever survive without the diary? Will she become a real person? Hours go by, the picture fades to white, we see Kitty and Peter kissing in the snow: humanity won! Kitty is here to stay.
Year
2021
Film Type
Drama/Animation
Film Length
99 minutes
Director/Screenplay
Ari Folman
Based on The Diary of a Young Girl
by Anne Frank
Producer
Jani Thiltges
Yves Kugelmann
Ari Folman
Alexander Rodnyansky
Starring
Emily Carey
Ruby Stokes
Cinematography
Tristan Oliver
Edited by
Nili Feller
Music
Karen O
Ben Goldwasser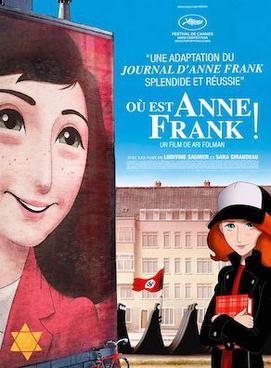 ---
Trailer
---
Images