In Surviving Skokie, the filmmaker's father, Jack Adler -a Polish Holocaust survivor-confronts his own past, returning to Poland with his son to tell the stories of family members who perished in the ghetto and death camps.
They visit Pabianice, Poland, Jack's ancestral home and Auschwitz-retracing the steps of Jack's horrifying journey.
---
Synopsis
They survived the horrors of the Holocaust and came to America to put the past behind. For decades they kept their awful memories secret, even from their children. But their silence ended when a band of neo-Nazi thugs threatened to march in their quiet village of Skokie, Illinois "because that is where the jews are."
Surviving Skokie is an intensely personal documentary by former Skokie resident Eli Adler about the provocative events of the 1970s, their aftermath, his family's horrific experience of the Shoah, and a journey with his father to confront long-suppressed memories.
Director's Statement
I've always been drawn to stories that shed light on important social and historical events. That's why the film, Surviving Skokie, is so meaningful to me. Not only does it shed light on Nazi Germany's unrelenting war against Jews during World War II, but also the on anti-Semitism in America during the 1970s, especially against the Holocaust survivors in Skokie who wanted nothing more than to forget their painful pasts and start a new life in America.
Retracing my father's steps with him, from his hometown in Pabianice, Poland to the Lodz Ghetto and ultimately to Auschwitz has been the highlight of my life. The film brings attention to the ongoing fight against hate and prejudice, while also exploring the powerful bond between a father and son.
Awards
Since its release in 2016, Surviving Skokie has been accepted into more than 20 national and
international film festivals.
It won the best documentary at:
The Warsaw Jewish Film Festival (2016)
The Los Angeles Jewish Film Festival (2016)
It also won the Audience Award for Documentary at The Mill Valley Film Festival (2015)
Year
2015
Film Type
Documentary
Film Length
1 hour 6 minutes
Director
Eli Adler, Blair Gershkow
Screenplay
Blair Gershkow
Co Producer
Eli Adler, Blair Gershkow
Cinematography
Eli Adler
Editing
Blair Gershkow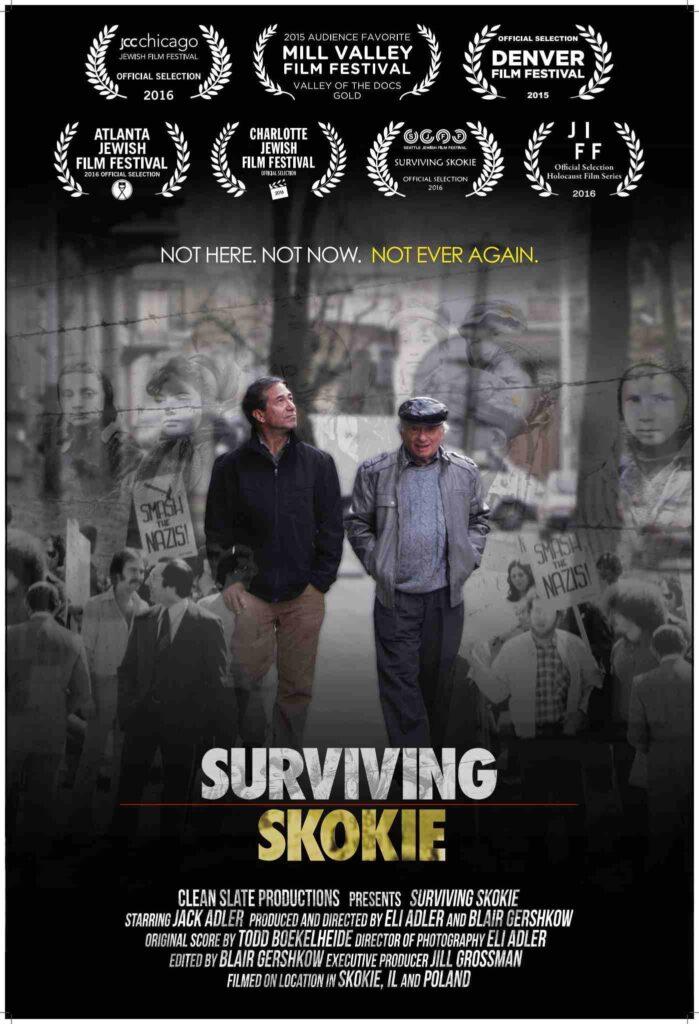 ---
Watch the Trailer
---
Stills