The true story of Jan Karski who told of humanity's greatest crimes while there was still time to stop them.
---
Synopsis
In a virtuoso solo performance, Academy Award-nominee David Strathairn (Nomadland, Good Night, and Good Luck, Lincoln) portrays Jan Karski in this genre-defying true story of a reluctant World War II hero and Holocaust witness.  After surviving the devastation of the Blitzkrieg, Karski swears allegiance to the Polish Underground and risks his life to carry the first eyewitness reports of war-torn Poland to the Western world, and ultimately, the Oval Office.  Escaping a Gestapo prison, bearing witness to the despair of the Warsaw ghetto and confronted by the inhumanity of a death camp, Karski endures unspeakable mental anguish and physical torture to stand tall in the halls of power and speak the truth. Strathairn captures the complexity and legacy of this self-described "insignificant, little man" whose timely story of moral courage and individual responsibility can still shake the conscience of the world.
About the Directors
Jeff Hutchens
Jeff Hutchens is a cinematographer who grew up across the United States, China, South Africa, and the Philippines. After ten years on the road as an award-winning magazine photojournalist (Time, New York Times Magazine, National Geographic), Jeff switched mediums and brough his innovative visual aesthetic into filmmaking. He has worked in more than sixty countries, exploring social and cultural issues around the world with a long-form blend of intimate naturalism and surrealist noir. His cinematography credits include numerous feature documentaries and documentary series for Showtime, HBO, and Netflix.
Derek Goldman
Derek Goldman is the chair of Georgetown University's Department of Performing Arts and director of the Theater and Performance Studies Program, and his is the co-founding director of The Laboratory for Global Performance and Politics.  He is an award-winning international stage director, producer, playwright, and educator whose work has been seen off-Broadway, nationally, and at numerous leading theaters around the world. 
Festivals, Screenings, & Awards
Audience Award for Narrative Feature at the Montclair Film Festival (2022)
Audience Award for Best Narrative Feature at Woodstock Film Festival (2022)
World of HA Changemaker Award at Woodstock Film Festival (2022)
Adirondack Film Festival
Atlanta Jewish Film Festival (2022)
Boston Jewish Film Festival (2022)
Heartland International Film Festival (2022)
Jewish International Film Festival (JIFF – Australia) (2022)
Judy Levis Krug Boca Raton Jewish Film Festival (2023)
Portland Film Festival (2022)
San Diego Jewish Film Festival (2023)
Sedona International Film Festival (2022)
San Francisco Jewish Film Festival (2022)
St. Louis International Film Festival (2022)
Winnipeg International Jewish Film Festival – 2023
Year
2022
Production Country
USA
Production Company
Sobremesa Media,
Remember This Karski Productions
Distribution
Abramamora (Theatrical Release)
Subject Region
Poland, USA
Runtime
95 minutes
Directors
Jeff Hutchens
Derek Goldman
Producer
Eva Anisko
Writers
Clark Young
Derek Goldman
Director of Photography
Jeff Hutchens
Editor
Brandon Bay
Composer
Roc Lee
Co-Producer
Alexander Hyde
Executive Producer
Eva Anisko
Featuring David Strathairn as Jan Karski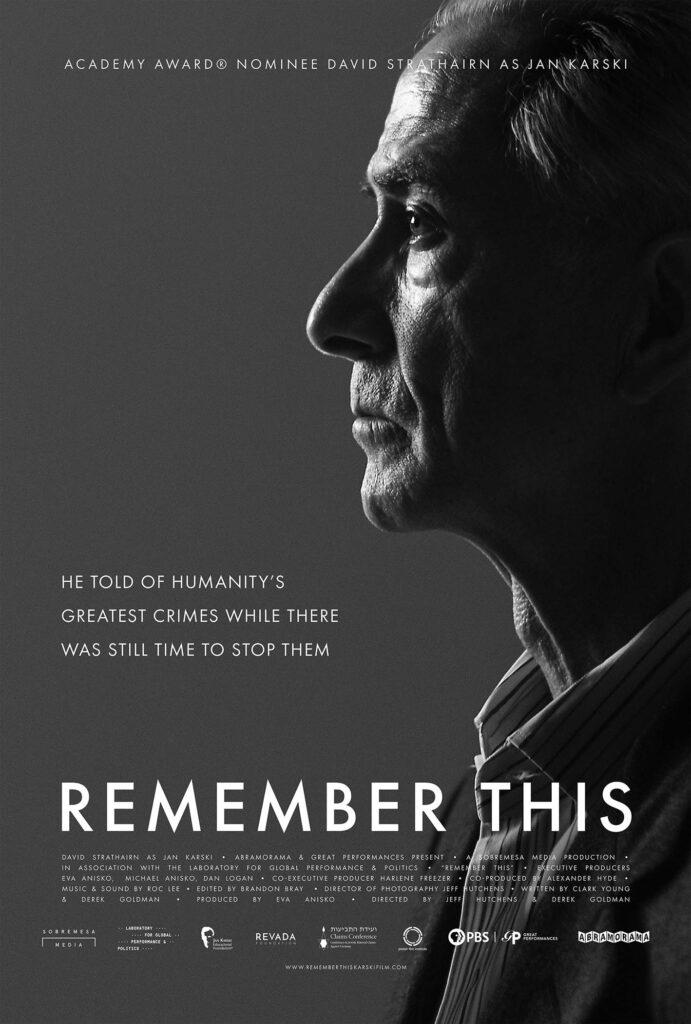 ---
Trailer
---