In 1941, Charlotte Salomon embarked on an extraordinary artistic adventure, mixing paintings, texts and music. In 18 months, she painted 1300 gouaches, before being deported to Auschwitz. In a rare creative urgency, she recounts her life in Berlin, her love for her friends and family, the rise of Nazism, her extraordinary love affair with a music teacher, then her exile in France.
---
Synopsis
Between 1940 and 1942, at the age of just 24, Charlotte Salomon created 1,300 paintings.In a rare creative urge, she recounts her life as a young girl in Berlin, the rise of Nazism and anti-Semitism, up to the moment when she escapes to the south of France to join her grandparents. Using layers, she interweaves texts and musical references in her paintings. At the age of 26, Charlotte, who was sent to Auschwitz where she died, pregnant. This documentary tells her life through her work, enriched with a collection of rare historical archives, and pays tribute to her multi-faceted talent and her extraordinary avant-garde multimedia work.
About the Director
Director and director of photography, Muriel Coulin began as an assistant on films by then became a director of photography, working on documentaries by Emmanuel Finkiel, Hélène Angel, Jean-Pierre Limosin, Judit Kele and contemporary art films, notably for Pierre Huyghe and Philippe Parreno. She directed documentaries including L'homme sans douleur, for Arte, before moving to fiction. In 2019, she directed her first play : "Charlotte", based on the work of Charlotte Salomon and the novel by David Foenkinos. The play was sold out for months at several national theaters.
After a top level degree in literature, a masters in American literature and civilization and then graduating from the prestigious Sciences Po School, Delphine Coulin worked at ARTE France; firstly at the Fiction unit, with Pierre Chevalier, then at The Documentary Unit, with Thierry Garrel. As program manager, she co-produced programs such as Profils, Comix, Exhibition, as well as units for La Vie en France or Grand Format. Her six books: "Les Traces" (2004), "Une Seconde de Plus" (2006), "Les Mille-Vies" (2008), "Samba pour la France" (2011), "Voir du Pays" (2013), and "Une Fille dans la Jungle" (2017), published by Editions Grasset and Seuil, have all had both critical and public success, and are translated into a dozen languages.«Samba pour la France» was adapted into a film under the title «Samba» by Eric Toledanoand Olivier Nakache, featuring Omar Sy, Charlotte Gainsbourg and Tahar Rahim. Together they directed two film features selected and awarded at Cannes, and sold in 30countries : 17 Girls and The Stopover (with SoKo and Ariane Labed). Charlotte Salomon, life and the maiden, is their first documentary together.
Artist Statement
Charlotte Salomon, life and them aide is above all theportrait of a woman. A determined woman, who goes through tragedies with strength, and an extraordinary creator, a painter, a musician and a writer. A film entirely based on her autobiographical work, which she calls "operetta", but which can be seen as a comic strip, an opera… or a film script.
Finally, animation allowed us to take what Charlotte had started when she drew the same character thirty times with different emotions, or when she superimposed layers on her pain-tings: with small touches, Charlotte's paintings came to life, and her multidisciplinary approach really took on its full meaning.
We would like every viewer of our film to be touched by Charlotte Salomon's drama (historical drama, but also family drama, when she discovers the family secrets that have been hid-den from her), while at the same time getting excited with her discoveries – painting, music, but also her love story. Our main intention is to immerse the viewer in Charlotte Salomon's work, to give it, perhaps, a new echo, and to continue to transmit her work, her life force andher faith in art, against all odds.
Festivals, Screenings, & Awards
New York Jewish Film Festival
Jewish Film Festival Berlin Brandenburg
Jerusalem Film Festival
FIPADOC
Year
2023
Production Country
France
Production Company
Les Films du Poisson, Cinephil (Sales)
Distribution
Cinephil
Subject Region
France, Germany
Runtime
75 minutes
Director
Delphine Coulin & Muriel Coulin
Producer
Yael Fogiel
Technical List Editing
Valérie Loiseleu

Image
Jean-Louis Vialard

Sound Design
Nicolas Becker

Mix
Lucien Richardson

Original Music
Quentin Sirjacq

Visual Effects
Robin Deriaud

Sound Effects
Gilles Marsalet

Color Grading
Eric Salleron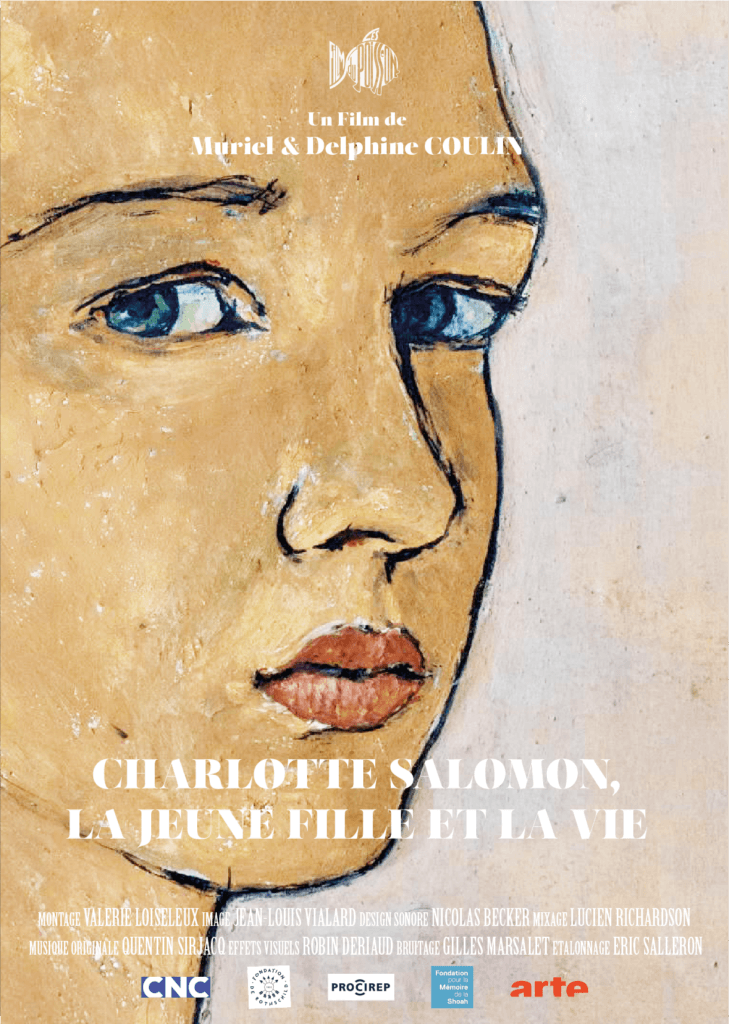 ---
Stills