The last of the great partisans, who located Hitler's "wonder weapon", returns to the war that took away his feelings and identity, but failed to rob him of his values as a human being.
Background
In an old house in the modest neighborhood of Kiryat Ata, neighbors did not imagine that the old man who lives next door is the last living commander of a partisan battalion in World War II.
He is the man who located the secret facility where the Germans developed their last hope for victory – the V2 missiles. In his confession, Berenshtein returns to the past and reveals the sights that accompany his whole life – women and children burned before his eyes, partisans he executed, his brilliant war tactics, the love of his life which he relinquished, his encounter with the Holocaust and the moment he chose to refuse an order, break into a German prison and release Jews sentenced to death. In the last moments of his life, he faces the decisions he made and recounts how he found not only Hitler's doomsday weapon, but himself.
Director's statement
My name is Roman Shumunov, I grew up in Georgia, former USSR and was educated on respect and admiration for the veterans of World War II. My both grandfathers were on the battlefields of that terrific war.
On the age of 17, I immigrated to Israel and I was surprised to find that the issue was not on the public agenda and Jews who fought against Nazi machine were pushed into a corner of the Israeli Pantheon.
Few years ago I met Leonid Berenshtein, in his humble 1 bedroom flat. The man who changes the outcome of the ww2 no one knew. When I learned his incredible and unique story, I realized that a huge opportunity opened up for me and I just must perpetuate his story and bring it to the wide Israeli and world audience. The sense of alienation felt by the films hero in wartime is not foreign to me –I immigrated to Israel alone and had to deal with difficult identity questions and dilemmas. Therefore I chose to focus not on the heroic operations and heroic actions performed by the partisan, but on his inner experience, in the moments when his moral and identity values ​​were put to the test.
I have created a fabric of memory strings, leading to the past but revealing processes that take place in our time as well. Using a subtle combination of fiction and documentary genres, this story leads viewers on an exciting journey into the depths of his soul of a Jewish partisan, who hides his identity but preserves his values – even ​​in the darkest days of human history.
Year
2021
Director
Roman Shumunov
Script Writer
Simon Shechter
Executive Producer
Ronen Machlis Balzam
Co-Executive Producer
Hila Guy
Producer
Emanuel Shechte
Co-Producer
Lior Sasson
Sound Designer & Re-Recording Mixer
Michael Goorevich
DOP
Evgeniy Usanov
Ronen Kruk
Editing
Roman Shumunov
Art Director
Nadia Jupiter
1st Assistant Director
Katheryna Lesyk
Yuriy Andrievsky
Participants
Leonid Berenshtein
Olga Proskyrenko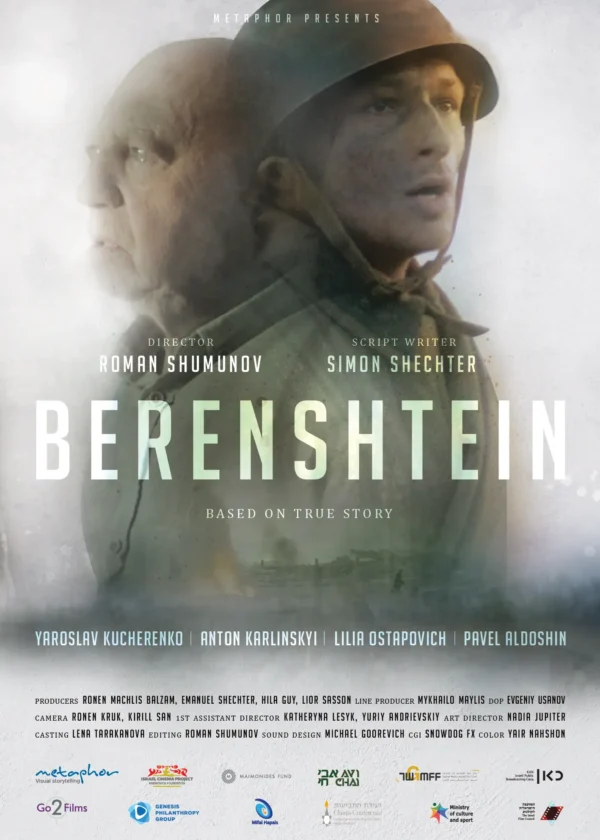 ---
Trailer
---
Stills