999 Jewish girls ordered to register for Slovak government service in March 1942 end up being secretly deported on the first Jewish transport to Auschwitz.
Synopsis
999: The Forgotten Girls chronicles the untold story of 999 Slovak girls betrayed by their government. These unmarried, mostly teenage girls were promised that if they volunteered for "work" they would be fufilling their patriotic duty. Instead, in the spring of 1942, Slovakia became the first Axis partner to "relocate" Jewish residents. Under the cloak of deceit, the innocent girls bid farewell to their families and were deported via a one-way ticket to Auschwitz. Those who survived endured more than three years of persecution in death camps. Meet the last living survivors of the First Transport and learn their story.
About the Director
Heather Dune Macadam has spent 20 years researching and interviewing families, witnesses, and survivors of the first official transport to Auschwitz. Her internationally acclaimed book 999 (published in 2020) has been translated into 18 languages and was a Pen Finalist in 2021.
Macadam's first book Rena's Promise, co-written with Holocaust survivor #1716 Rena Kornreich Gelissen is required reading in history classes around the world. In 2011, Macadam founded Rena's Promise Foundation, in the hopes of helping create a more ecumenical world unhindered by prejudice, racism, or hatred.
Macadam's work discovering lost girls and young women of the Holocaust has been recognized by Yad Vashem in the UK. the National Museum of Jewish History in Slovakia, and the Memorial Museum of Auschwitz in Poland. A former professor, she has taught journalism, and creative nonfiction for over 20 years. This is her directorial debut.
Festivals, Screenings, & Awards
Hamptons Doc Festival
Miami Jewish Film Festival
Special Screening: Austin Jewish Film Festival
Year
2023
Production Country
USA
Production Company
Promise Productions
Subject Region
Slovakia, Poland
Runtime
99 minutes
Director
Heather Dune Macadam
Co-Director / Editor
Beatriz Calleja
Executive Producers
Susan Lacy, Diane Nabatoff
Producers
Jane Rose Schonberger, Jay Heit,
Co-Producers
Stephen Hopkins, David Kaufman
Writer
Heather Dune Macadam
Narrator
Ramita Navai
Composers
Mária Volárová, Ivan Kudrna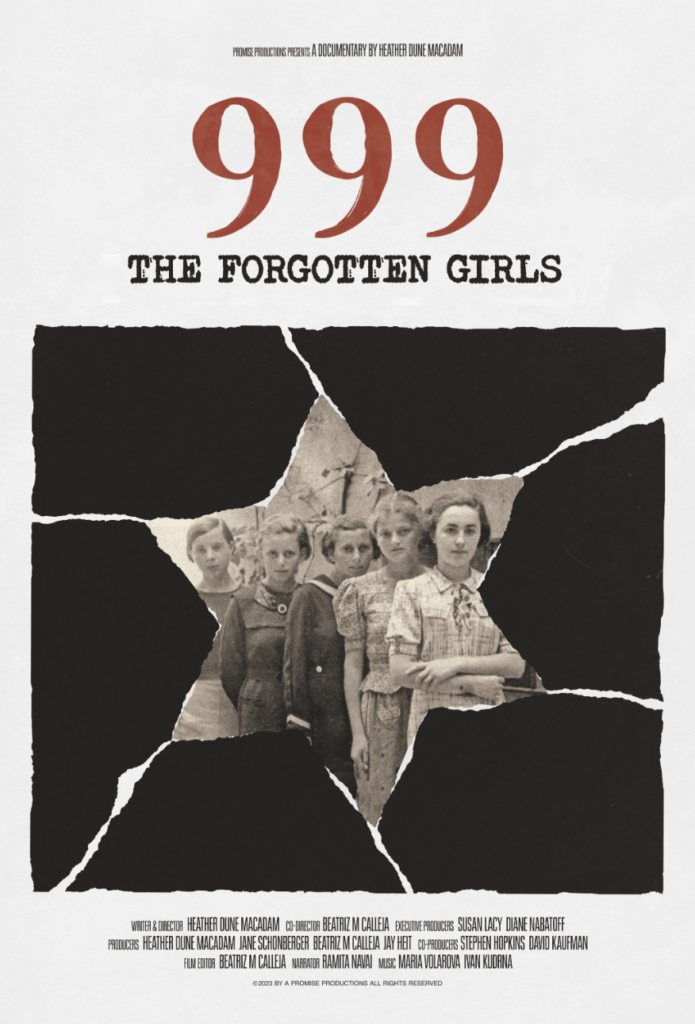 ---
Trailer
---
Stills